As the biggest cryptocurrency continues to flounder, investors must consider cheaper alternatives to invest in. This decision pays off in the long run when major cryptos begin to rise again and other altcoins, including cheap ones, go on a bull run.
Bitcoin is once again testing its lows for the year amid a cryptocurrency market selloff that has pushed the overall market value of the sector below $1 trillion.
The leading digital token has seen a decrease of over 6% this week, currently trading around $18,750. In the past 24 hours, the cryptocurrency market capitalization has similarly fallen by a substantial proportion. Additionally, Ether has erased its gains from Tuesday, dropping approximately 4.4%.
This renewed downturn in the cryptocurrency market suggests ongoing volatility and uncertainty in the space as investors react to various factors influencing digital asset prices.
4 Best Cheap Crypto To Buy Now Under 1 Dollar in September 2023
Cheap altcoins are volatile, but isn't that the nature of the cryptocurrency market? Stablecoins might be the only exceptions to volatility. Purchasing digital assets at a very low cost puts an investor in a less risky situation. 
We have put together the cheapest crypto to buy now under one dollar for investors to consider for low-risk investments. 
1. Kaspa (KAS)
Kaspa is a cryptocurrency that operates on a proof-of-work (PoW) protocol and employs the GHOSTDAG (Greedy Heaviest Observed Subtree Directed Acyclic Graph) protocol. Unlike traditional blockchains, GHOSTDAG doesn't orphan parallel blocks but allows them to coexist while establishing a consensus order for them. 
The Kaspa blockchain is essentially a blockDAG (Directed Acyclic Graph), a structure that offers secure operation while maintaining a very high rate of block creation (currently one block per second, with aspirations of reaching 10 per second and even 100 per second in the future). This procedure results in minuscule confirmation times that are primarily limited by internet latency.
The Kaspa implementation incorporates several notable features, including Reachability for querying the DAG's topology, block data pruning (with plans to implement block header pruning in the near future), SPV (Simplified Payment Verification) proofs, and upcoming subnetwork support, which will facilitate the implementation of layer 2 solutions in the future.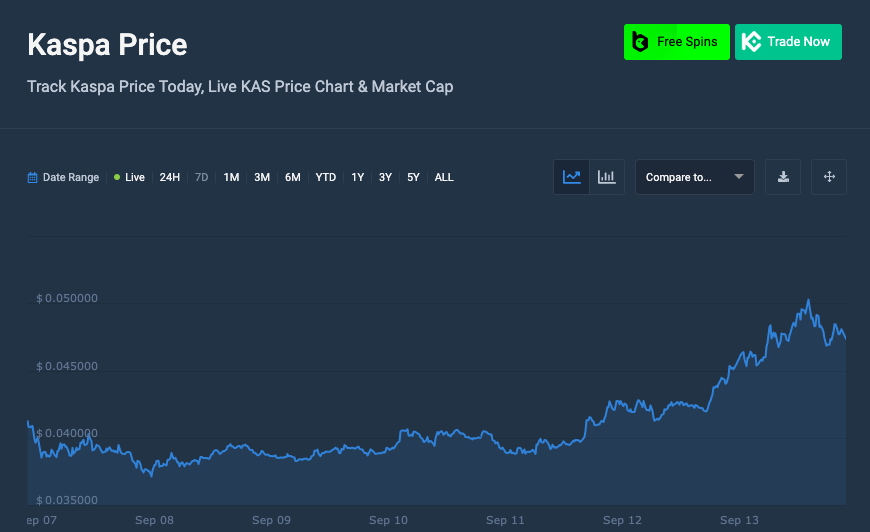 Kaspa enters our list of affordable cryptocurrencies to consider for your portfolio and watchlist. According to its market analysis, the project is on an upward path.
2. Conflux Network (CFX)
Conflux (CFX) is a public layer-1 blockchain designed to support decentralized applications (dApps), e-commerce, and the infrastructure of Web 3.0. It aims to achieve greater scalability, decentralization, and security compared to existing blockchain protocols.
📣 Conflux v2.3.0 Network Hardfork Upgrade is NOW COMPLETE!

🔹 Successful activation of CIP-107, CIP-112, CIP-113, CIP-118, and CIP-119.

🔹 Network is stable and running on v2.3.0.https://t.co/SbGBMbzR3O

— Conflux Network Official (@Conflux_Network) September 11, 2023
Conflux is optimized for efficient and cost-effective asset transfers, offering fast transaction processing, minimal network congestion, and low transaction fees. The platform utilizes the Tree-Graph consensus mechanism, which combines elements of both Proof-of-Work (PoW) and Proof-of-Stake (PoS) algorithms to achieve consensus. Conflux supports Turing-complete smart contracts written in Solidity, similar to Ethereum, and is compatible with the Ethereum Virtual Machine (EVM).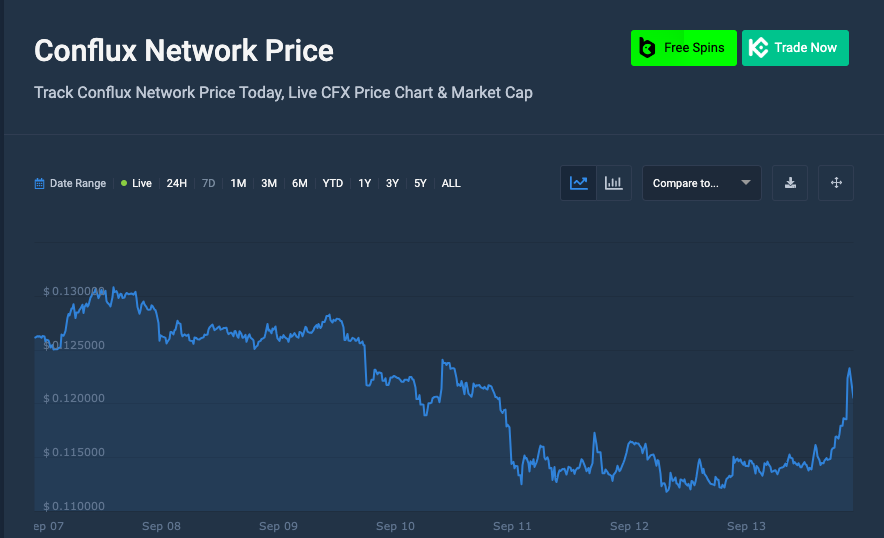 The native token of Conflux, CFX, plays a central role in the platform's ecosystem. It is used for paying transaction fees, participating in network governance, and rewarding miners who secure the network through staking. CFX serves as a financial incentive for users to engage with the Conflux network actively.
3. Hedera Hashgraph (HBAR)
Hedera Hashgraph is a highly efficient, enterprise-grade public network designed for the decentralized economy. It aims to address the limitations of older blockchain platforms, such as slow performance and instability, by offering a fairer and more efficient system.
The project was initially funded through an initial coin offering (ICO) in August 2018 and launched open access to its mainnet in September 2019. During the ICO, investors could purchase the platform's native utility token, HBAR, at an early stage.
HBAR plays a dual role within the Hedera public network. First, it serves as the fuel that powers various Hedera services, including smart contracts, file storage, and regular transactions. Second, HBAR can be staked by users to assist in securing the network, contributing to its integrity.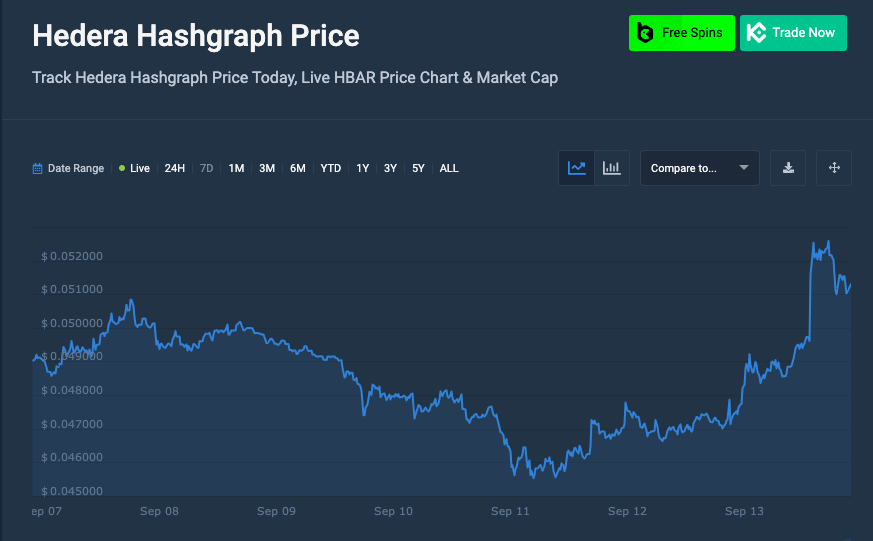 Hedera Hashgraph distinguishes itself from traditional blockchains by utilizing a unique consensus mechanism called hashgraph. Unlike older blockchains that rely on proof-of-work (PoW) or newer ones using proof-of-stake (PoS), Hedera's PoS-based model enhances transaction verification efficiency, security, and protection against cyberattacks.
Key features of Hedera Hashgraph include:
Consensus Service (HCS): This allows clients to negotiate consensus timestamping and order messages while maintaining privacy and access control.

Hedera Token Service (HTS): HTS enables customers to create and manage tokens with built-in tokenization support.
Hedera's hashgraph is designed to significantly increase transaction speed and handle high-volume operations, including micropayments, data integrity, and tokenization. It supports the Solidity programming language for writing smart contracts and offers built-in KYC and AML checks.
It all started with a vision – a vision of how the internet could work, which required technology that simply did not exist.

Then came #hashgraph; then came #Hedera.

That vision is now being realized, but our story has only just begun. #HelloFuture #HBAR pic.twitter.com/ULWCaHqmLp

— Hedera (@hedera) August 9, 2023
Hedera Hashgraph's unique consensus algorithm, hashgraph, involves nodes transmitting data to reach consensus on transaction order. All transaction branches are merged, ensuring none are discarded. This protocol enables efficient and secure transaction processing.
HBAR, as Hedera's native token, plays a central role in powering applications on the network. It is used for network services, transaction fees, in-app payments, micropayments, and incentivizing network nodes. Hedera Hashgraph features a decentralized governance system where the Governing Council makes critical decisions regarding pricing, software updates, and wealth management.
In summary, Hedera Hashgraph positions itself as an innovative and efficient platform for decentralized applications and the broader decentralized economy, utilizing hashgraph technology to offer speed, security, and scalability.
4. VeThor Token (VTHO)
VeThor Token (VTHO) is a critical component of the VeChainThor public blockchain, working in tandem with the native token, VeChain Token (VET). VeChain, originally launched in 2015, underwent a significant rebranding process in 2018 to become the platform we know today.
We're stoked to see over 9,150 developers completing vechain tasks on the EasyA Learn-2-Earn app so far. Great success!

For the next phase, 200 devs, including established builders from Google, Meta and more will join us for an in-person Hackathon at the renowned Harvard… pic.twitter.com/WuA394r2Fd

— vechain (@vechainofficial) September 13, 2023
VET serves as the native cryptocurrency of the VeChainThor network, while VTHO operates in a complementary role. VTHO is designed according to the VIP-180 Standard and holds a crucial function within the blockchain ecosystem.
The primary purpose of the VeThor Token is to represent the cost associated with utilizing the VeChainThor blockchain. It functions as the smart contract layer of the network, enabling and facilitating various processes and transactions. This dual-token system, involving VET and VTHO, contributes to the efficient operation and utilization of the VeChainThor blockchain.
5. yPredict (YPRED)
yPredict is currently making waves in the cryptocurrency market with its ongoing presale, and investors should definitely keep an eye on it. The project has already raised over $2 million since the start of its presale and is currently in its 6th stage. The statistics surrounding its fundraiser indicate that YPRED could be the next cryptocurrency to experience significant growth.
🧠The $YPRED token runs on pure brain power! Backed by https://t.co/LxaqdeZZqV's ground-breaking artificial intelligence models for generating accurate crypto forecasts. ⚡ #YPRED #HODL #CryptoGems #CryptoTrading #yPredict pic.twitter.com/CXuLnlNk8D

— yPredict.ai (@yPredict_ai) September 8, 2023
As per the information available on the presale website, there are currently 100 million YPRED tokens in circulation, and its market cap at listing is approximately $6.5 million. Additionally, there are more than 20,000 users on the waiting list, demonstrating strong demand for YPRED in the market.
yPredict is promoting the power of predictive trading through artificial intelligence tools. These tools allow traders to anticipate market fluctuations by the minute and on a weekly basis. Users can create and test models in simulated markets, enabling them to generate passive income. Furthermore, yPredict is planning to offer a marketplace where users can provide subscriptions, offering a smarter way to trade the YPRED token.
Investors should consider taking advantage of the ongoing presale to get involved with yPredict and explore the opportunities it offers for smarter trading in the cryptocurrency market. The project's focus on predictive trading and artificial intelligence tools could make it a significant player in the crypto space.
Read More
Ends Soon – Wall Street Memes
Early Access Presale Live Now
Established Community of Stocks & Crypto Traders
Featured on Cointelegraph, CoinMarketCap, Yahoo Finance
Rated Best Crypto to Buy Now In Meme Coin Sector
Team Behind OpenSea NFT Collection – Wall St Bulls
Tier One Exchange Listings September 27
Tweets Replied to by Elon Musk