One thing that meme coin fans often inquire about is which meme coin is the best. While this is a tricky question — if there is an answer — we can say with certainty that HarryPotterObamaSonic10Inu (BITCOIN) is the meme coin with the most "meme" in it.
The project describes itself as the endgame of crypto assets. It incentivizes the creation of new and entertaining meme content. With ownership renounced and liquidity locked, the community controls everything.
The project offers an NFT collection, a native utility token, and is exploring numerous partnerships. This allowed it to become one of the top trending cryptocurrencies on DEXTools, alongside Dork Lord and X.com.
The project is certainly interesting and unique, and while it is pretty new to the scene, its price action reflects its growing adoption.
How did BITCOIN price perform?
HarryPotterObamaSonic10Inu (BITCOIN) launched about a month ago, in mid-August. Its initial price was $0.1643, and the token saw the most significant volatility during its first few days.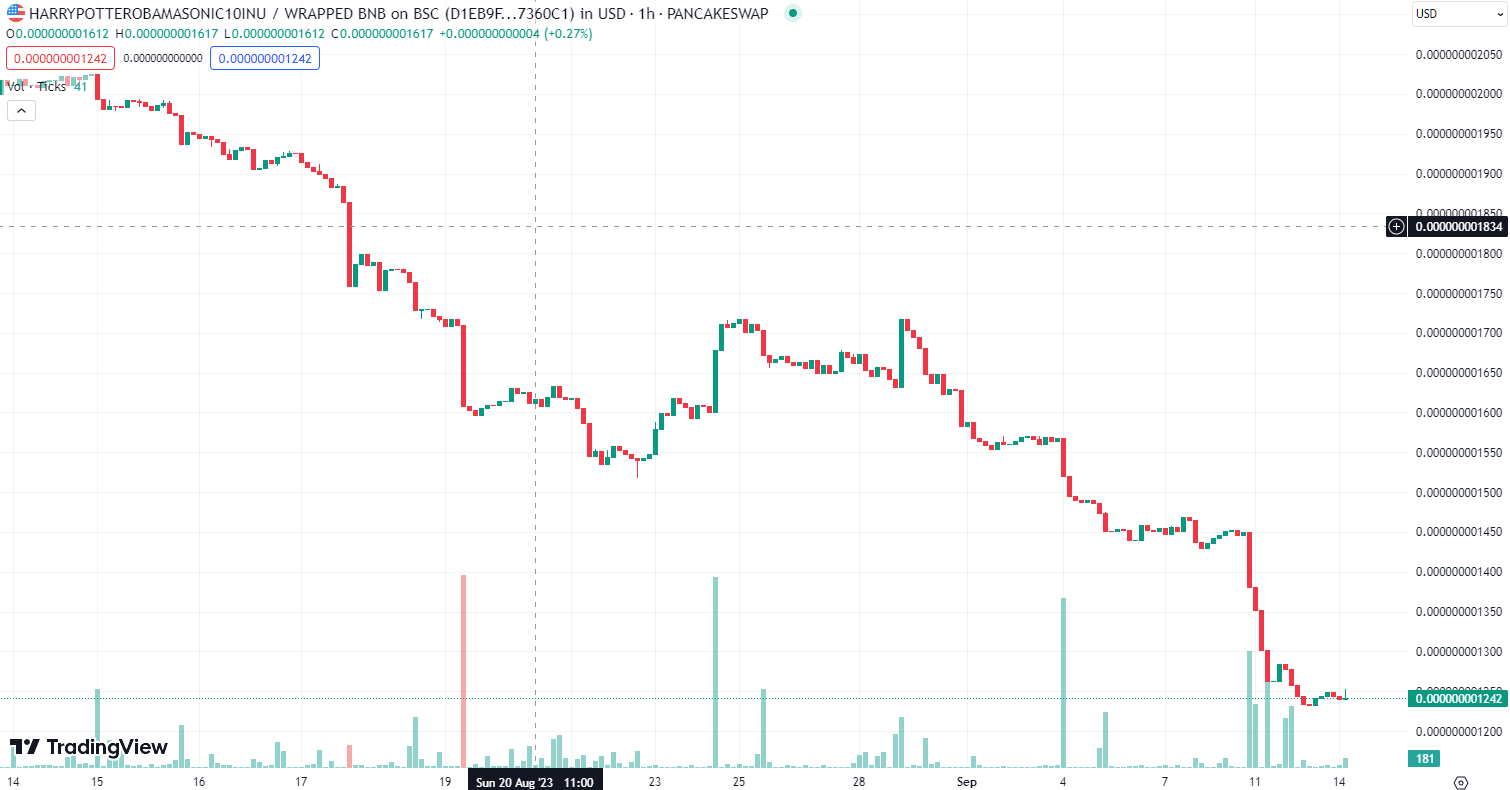 Immediately after launch, its price rose to $0.1877, only to be rejected to $0.1467 the next day. It then grew beyond its launch price again, followed by another drop, an even deeper one this time, to $0.1202. These surges and drops continued until August 22, when the token started spiraling down.
Its price dropped to $0.0715 on August 29, from where it slightly recovered to $0.1224 before spiraling down again. Its primary support at $0.050 kept it from going deeper down, but throughout September, the token never returned to $0.1.
Recovery after hitting bottom
This brings us to September 11, when BITCOIN hit its lowest price in the day's final hours, sinking to $0.04496. However, the token suddenly bounced back up after reaching its all-time low. It was heavily undervalued, and it started attracting the community's attention.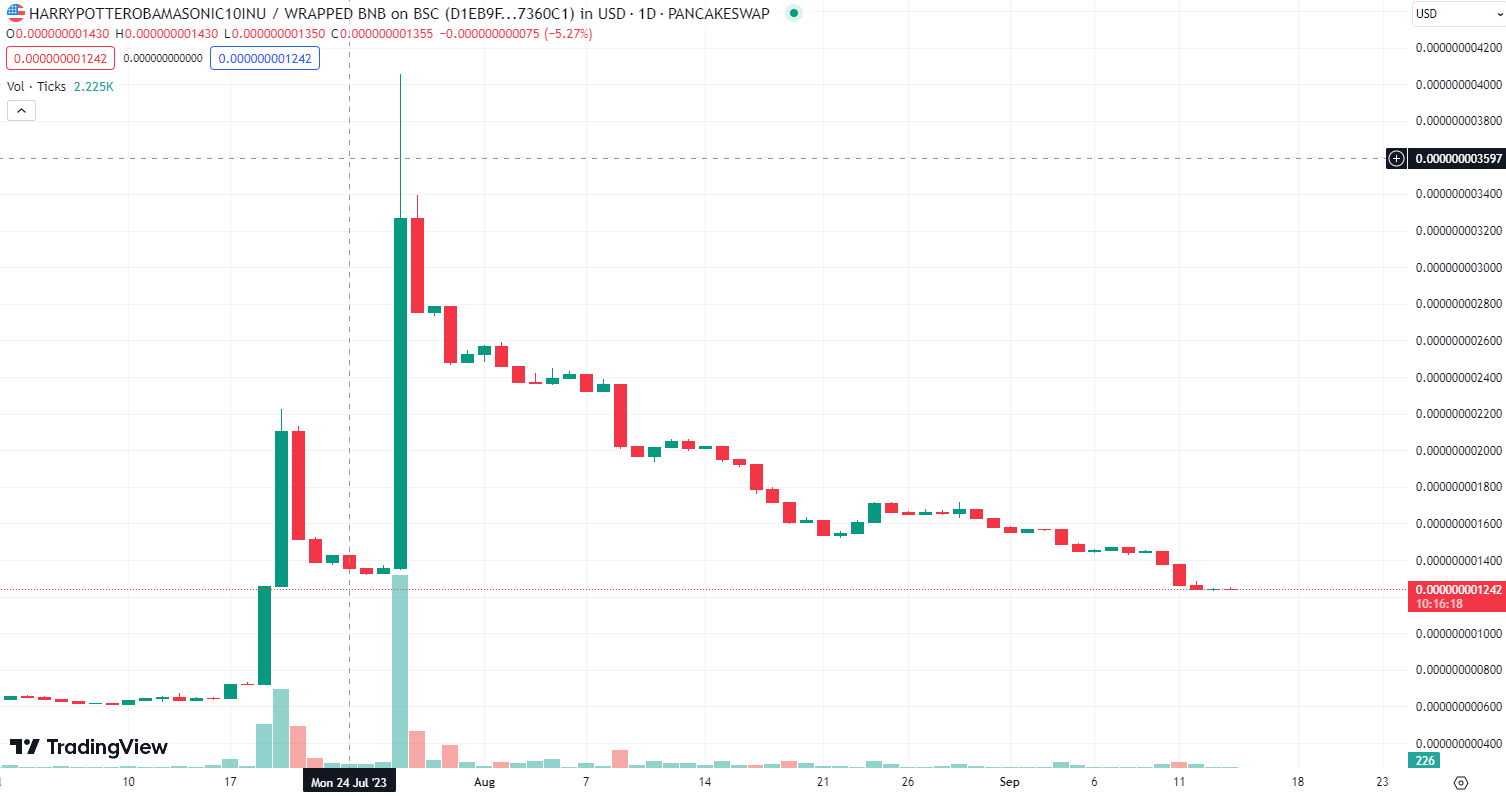 Over the last two and a half days, it saw almost nothing but growth, which brought it up to $0.072. HarryPotterObamaSonic10Inu is only fractions of a cent away from nullifying its drop seen in the past seven days, and many believe that this bull run holds the potential to take it back to its launch price and perhaps beyond.
Of course, the market is currently in a difficult position, so it is still unclear what will happen next. Even so, the community seems hopeful, and the token shows the desire to grow.
Will Wall Street Memes be most vital meme coin in 2023?
So far, meme coins have had a much better 2023 than any other group of cryptocurrencies. However, even among them, one meme coin stands above all others — Wall Street Memes (WSM). This new meme coin held its presale throughout this summer, raising over $25 million in the process.
Right now, its presale is only days from being concluded, and the token will be listed on exchanges in 11 days. The project's developers are urging potential buyers to take this chance to get the WSM token while it is still selling at $0.0337. Once it is out on the exchanges, it will be out of their hands, and nobody knows where the volatility might take its price.
Anyone interested in buying the token in its final presale stage can do so via BNB, ETH, USDT, or credit or debit card.
Related
Ends Soon – Wall Street Memes
Early Access Presale Live Now
Established Community of Stocks & Crypto Traders
Featured on Cointelegraph, CoinMarketCap, Yahoo Finance
Rated Best Crypto to Buy Now In Meme Coin Sector
Team Behind OpenSea NFT Collection – Wall St Bulls
Tier One Exchange Listings September 27
Tweets Replied to by Elon Musk