THORChain (RUNE) has been upholding its bullish trend for a long time. Coinmarketcap shows that the coin gained 2% in the past month and 2% in the last seven days.
At 7:34 a.m. EST today, September 14, RUNE has shot up 4%, with its trading volume rocketing by 24% to $48 million in the last 24 hours.
This price movement has aroused speculation that the coin could climb further, pumping by 8% and beyond in the coming days to weeks.
THORChain Massive Total Value Locked Supports Surge Speculation
THORChain is one of the leading decentralized liquidity protocols with a lending platform. It has a massive Total Value Locked (TVL) of more than $265.2 million, which typically indicates significant adoption and usage within the decentralized finance (DeFi) ecosystem.
This high TVL means a larger pool of assets is locked within smart contracts, which can lead to more efficient trading and lending markets for RUNE.
RUNE's Consecutive Green Candles Hint at Uptrend

THORChain (RUNE) has formed three consecutive green candles on the chart, showing increased buying pressure over the past three days.
This is evident in the Relative Strength Index (RSI), increasing from 59. As such, RUNE could record significant price rallies toward the overbought region (above 70) in the coming days.
Also, the overall market trend is bullish, considering that the price is above the Simple Moving Average (SMA).
Even though RUNE's Moving Average Convergence Divergence (MACD) is below the signal line, the red histogram bars are fading, supporting the positive market trend.
As such, the coin could stall for a short period before continuing its upward trajectory.
RUNE Nears Critical Resistance At $1.6521 – Will Bulls Prevail Amid Selling Pressure?

RUNE's price rally has pushed it near the resistance level of $1.6521. Historically, profit-taking traders are known to sell off a large portion of their holdings, which invariably affects the coin's growth.
As such, RUNE's price movement toward this level means its growth will likely halt as selling pressure increases.
However, considering the overall bullish market trend of the coin, RUNE could break above this resistance level, setting the next resistance target at the $1.7 mark.
On the other hand, the coin has support at $1.5135. If the upcoming selling pressure triggers a downtrend, this level could help RUNE rebound.
Nevertheless, traders and investors should monitor these levels closely, using strategic trade setups and comprehensive technical analysis to make informed decisions.
While RUNE looks promising, the new stake-earning project, Bitcoin BSC, is showing signs of a significant surge, with its presale hitting new milestones quickly.
BTCBSC Raises Over 1.8m in Presale Round
The new stake-earning cryptocurrency, Bitcoin BSC ($BTCBSC), is generating substantial excitement this week by reaching a presale milestone of $1.8 million.
This new cryptocurrency has sparked a fear of missing out (FOMO) among investors because it offers them the opportunity to purchase the token for less than $1, reminiscent of the early days of the original Bitcoin.
As this project continues to gather significant traction, experts within the community are expressing confidence that it will experience a surge in value once it becomes available on decentralized exchanges (DEXs).
Lucrative Staking Rewards for Token Holders
Bitcoin BSC's standout feature is its stake model, designed to reduce selling pressure at launch and offer long-term benefits to token holders.
The verified stake contract follows the original Bitcoin's block rewards schedule, distributing $BTCBSC tokens to stakers for over 120 years.
Those who stake $BTCBSC receive some rewards through the energy-efficient Proof of Stake (PoS) mining consensus mechanism.
Upon the completion of the presale, any unsold tokens, with a minimum of 14.455 million $BTCBSC, will be locked into the staking contract.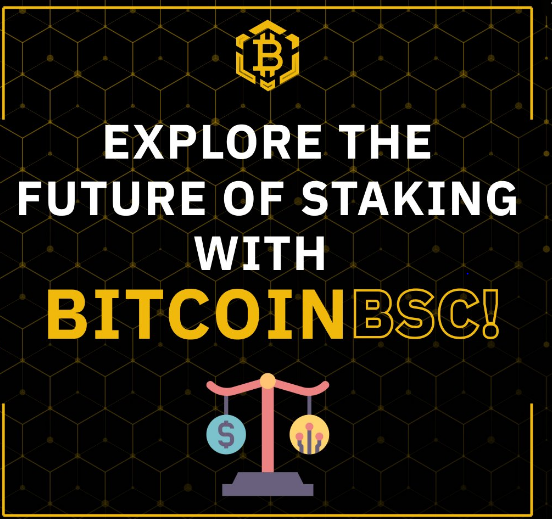 The stake pool is already operational, with over $864k BTCBSC tokens locked up, providing 0.25 BTCBSC per block in rewards. At present, stakers are expected to earn an APY exceeding 300%.
Naturally, as more stakers join the pool, the annualized percentage yield (APY) is expected to decrease. However, it is anticipated that BTCBSC will still offer considerably higher rewards than other Proof of Stake (PoS) stake pools, which typically yield between 5% and 10%.
For those who prioritize security, it is worth noting that the smart contracts governing Bitcoin BSC have undergone comprehensive verification by a reputable security firm, Coinsult.
Meanwhile, the $BTCBSC presale is selling out fast, with tokens available for $0.99. Users can make purchases by visiting this website.
Related:
Ends Soon – Wall Street Memes
Early Access Presale Live Now
Established Community of Stocks & Crypto Traders
Featured on Cointelegraph, CoinMarketCap, Yahoo Finance
Rated Best Crypto to Buy Now In Meme Coin Sector
Team Behind OpenSea NFT Collection – Wall St Bulls
Tier One Exchange Listings September 27
Tweets Replied to by Elon Musk